Deeper still into the forest...
Across shadow falls & glimmered glimpses of fleeting light.
Tripping through forest & time,
they search for the hidden truths of their aching souls.
Teetering on the edge,
eclipsed by the shadows of their own hearts,
onwards towards the break of dawn.
Together is the most important thing.
Another Love Story 2016
Another Love Story is a bespoke weekender of music, art, whimsy & fun, nestled in the glorious surrounds of Killyon Manor and brought to you by Happenings and our good friends Homebeat.
We are delighted to announce the final line-up of the 2016 installment of the annual Another Love Story summer weekender.
Another Love Story returns to the stunning wild grounds of Killyon Manor, Kinnegad, Co Meath from Friday 19th August to Sunday 21st August 2016. Now in its third year this hugely successful event will once again provide a blissful alternative to the large-scale festival experience with it's unique, intimate, hands on approach.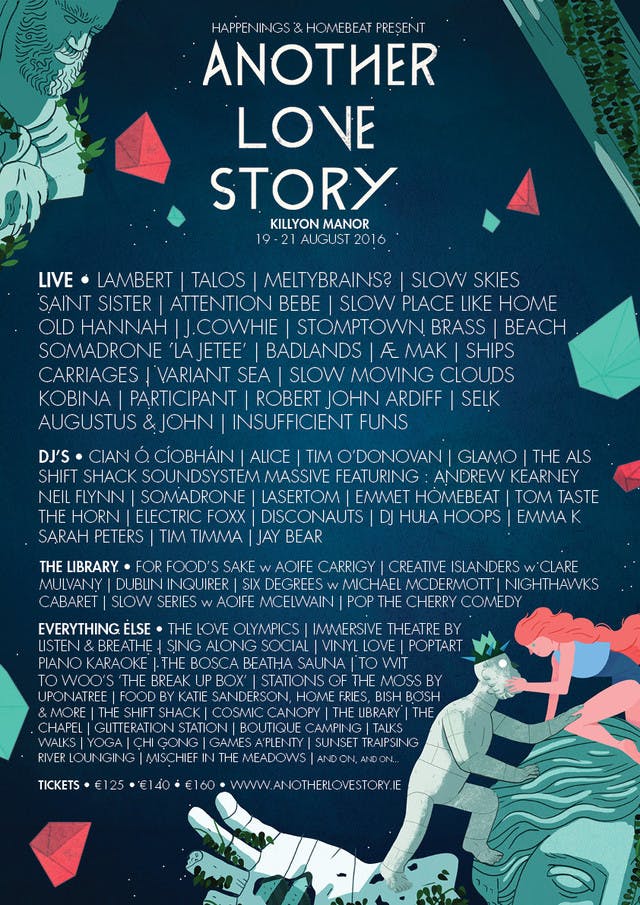 Final Soundtrack • Line Up Additions
The latest musical additions to ALS 2016 feature very carefully selected blend of live performances from :
LAMBERT | SHIPS | SLOW SKIES | AUGUSTUS & JOHN |
SOMADRONE performs 'LA JETEE' | INSUFFICIENT FUNS | SELK
ALS are very proud to steadfastly promote the best of Irish talent available, but are also very excited to say we welcome a stellar international act - German piano virtuoso LAMBERT to close out this year's gathering with a very very special Sunday performance in the beautiful Ballroom of Killyon Manor.
Lambert's recent album 'The Lost Tapes' (produced by Nils Frahm) has gained international acclaim for his unique blend of contemporary compositions and unique covers of international artists such as Moderat.
Lambert played a sold out show with Homebeat in The Unitarian Church last January.
Elsewhere we are honoured to feature the synth pop sweetness of SHIPS, contemporary jazz from INSUFFICIENT FUNS, a very special A/V performance soundtracking French cult movie 'La Jette' from SOMADRONE, beautiful folk pop from SLOW SKIES, shimmering electro pop from AUGUSTUS & JOHN, and stunning electro folk from SELK.
______________
DJ Sets
We are also delighted to announce our DJ Line up - combining sets from a choice mix of seasoned selectors and exciting party starters in The Ballroom, with the return of an all star ALS crew to the much loved Shift Shack
THE BALLROOM :
CIAN O CIOBHAIN | ALICE | TIM O'DONOVAN | GLAMO
THE ALS SHIFT SHACK SOUNDSYSTEM MASSIVE FEATURING :
ANDREW KEARNEY | NEIL FLYNN | SOMADRONE| LASERTOM | EMMET HOMEBEAT | TOM TASTE | THE HORN | ELECTRIC FOXX | DISCONAUTS | DJ HULA HOOPS | EMMA K | SARAH PETERS | TIM TIMMA | JAY BEAR |
______________
Occurances & Happenings
Adding to the musical mayhem is a brilliant collection of Occurrences & Happenings across the beautiful Manor and it's sumptuous grounds throughout the weekend :
THE LOVE OLYMPICS | LISTEN & BREATHE | SING ALONG SOCIAL | POP TART PIANO KARAOKE | TO WIT : TO WOO - THE BREAKUP BOX | STATIONS OF THE MOSS | BOSCA BEATHA | NIALLER 9's VINYL LOVE | 'FOR CONOR'
Returning for another Saturday afternoon of athletic antics - our very own ALS sports day - THE LOVE OLYMPICS, a bespoke, site specific immersive theatre experience by LISTEN & BREATHE, the pop hit of the summer with Aoife McElwain's SING ALONG SOCIAL, heart bursting, side splitting, shame shedding antics from POP TART PIANO KARAOKE, a Saturday afternoon open air edition of NIALLER 9's VINYL LOVE, a brand new relationship testing experiment from the darkly romantic minds of TO WIT : TO WOO - THE BREAK UP BOX, natural wanders through neo-natural wonders with STATIONS OF THE MOSS by Uponatree, and we are especially delighted to welcome Shirley's BOSCA BEATHA mobile sauna for a touch of grounded luxury.
ALS 16 will also feature a specially commissioned A/V installation 'FOR CONOR' commemorating our late friend Conor Walsh whose recent passing we still keenly feel, the memories of his performances at ALS 13 we cherish, and whose presence we dearly miss.
______________
The Library
As is customary, The Library is home to chill moments and some intellectual stretches with talks, chats & inspiration from :
FOR FOOD'S SAKE presents FOOD MEMORIES w AOIFE CARRIGY | CREATIVE ISLANDERS w CLARE MULVANY | DUBLIN INQUIRER | SIX DEGREES w MICHAEL MC DERMOTT | NIGHTHAWKS CABARET | SLOW SERIES w AOIFE MCELWAIN | POP THE CHERRY COMEDY
______________
Food at Another Love Story
Finally we continue our dedication to providing first class food on site throughout the weekend with nourishment provided by :
KATIE SANDERSON | HOME FRIES | BISH BOSH | NOMAD COFFEE & More TBA.
______________
Tickets (Includes regular weekend camping)
Early Bird: €95 [SOLD OUT] (released to previous ALS attendees are already sold out)
Regular: €125 [SOLD OUT]
Last Throes: €140
(Late bookers & price on door for weekend, if available): €160
______________
Accommodation
Festival Ticket includes regular weekend camping
Boutique Camping (does not include weekend ticket):
4M Tent (sleeps 4) €220
5M Tent (sleeps 6) €320
Bed & bedding extra. Please see website for full details
Ultimate Boutique Camping (does not include weekend ticket)
Experience the incredible luxury of Killyon Manor's very special Canvas Bell Tents hidden away from the rest of the festival, complete with extravagant comforts such as welcome hampers with chilled prosecco, complimentary massages, 'hot' concierge, hot showers & exclusive toilets!
Tents sleep a maximum of 2 people (1 double or 2 single beds)
Price for entire 2 person package: €700
______________
Other Details
Under 12's go free accompanied by adult
12-18 year olds are not permitted
Dogs Free! (it's a dog's life)
______________
Website : www.anotherlovestory.ie
Facebook : https://www.facebook.com/anotherlovestoryIRL
Instagram: https://www.instagram.com/AnotherLoveStoryIRL/
Twitter: https://twitter.com/AnotherLStory
Hashtag: #ALS16 #AnotherLoveStory2016
Press pack of posters/photos : www.anotherlovestory.ie/press
__________________________________________________